America minus God equals Joe Biden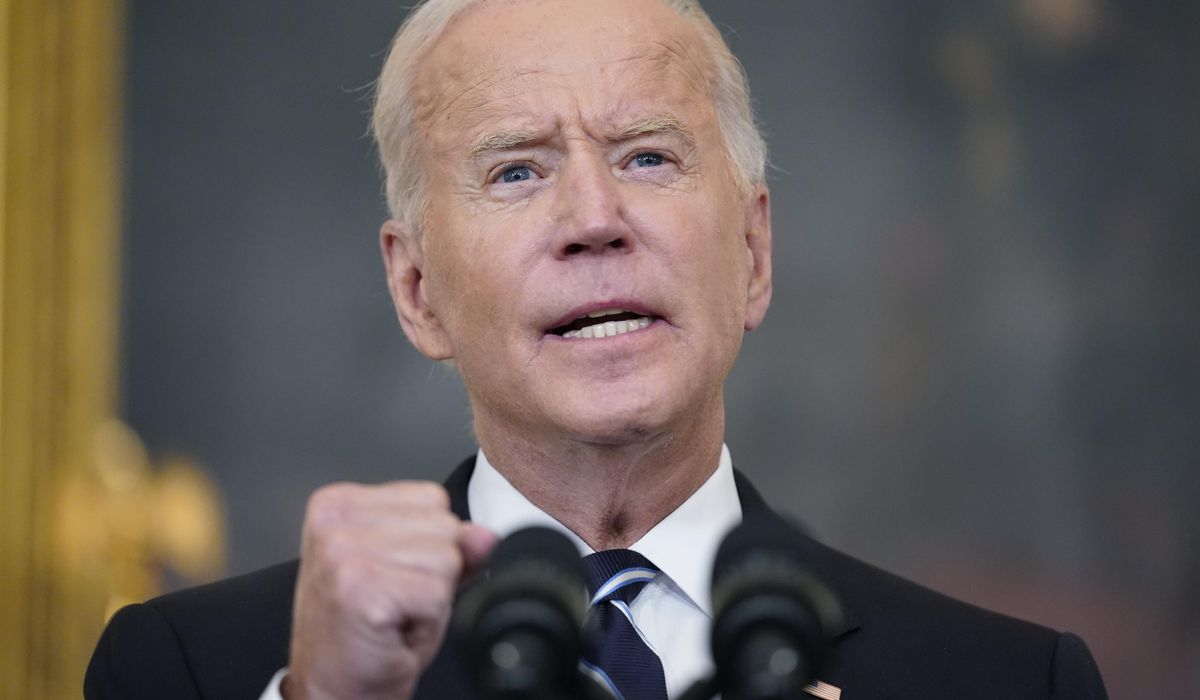 ANALYSIS / OPINION:
President Joe Biden just issued a prescription that could force an estimated 100 million Americans to inject themselves once, twice, or even three times with a chemical with largely unknown long-term side effects, against their will, as a condition of work. As a condition of freedom.
It is a prime example of how a government works without a proper moral compass and without constitutional constraints.
Truth be told, it's a prime example of how a nation without God at the helm runs its government: more dictatorial, less personal choice; more collectivist, less individualistic.
After all, if citizens don't take their marching orders from God, relying on government only to protect what is freely given from God – well, where do citizens get their marching orders from? Of the government.
From an authoritarian government.
From a great government too willing to fill the void left by a growing secular society.
Simply put: America, minus God, brings us a president who doesn't think of issuing orders that on another day, another time, a different and more ecclesiastical time, would have been considered unthinkable.
Our Founding Fathers warned us that this nation's democratic republic's limited system of governance will only hold up as long as its people are moral and righteous. And they based this notion on the common sense fact that it is only morale that can govern itself. They based this idea on the easy-to-understand truth that only those whose principles are rooted in steadfast, strong, and unwavering directions from above – on the laws and standards of the Heavenly Creator, and not on whims and wills. of the human spirit – who can control in their own base, carnal desires and exercise self-control over their most carnal and wildest impulses, in fear, in recognition, in acceptance, in respect of a judgment day filled with responsibility.
Conversely, only the immoral ones need laws and punishments as motivation to follow this societal line.
Now look around you.
Look around you. The American dream has been replaced – as South Carolina Governor Henry McMaster called it – by the American "nightmare".
The concept of rights coming from God, not government, has been thrown in the trash, replaced by fear of the coronavirus fueled by political opportunists.
Vaccination mandates. Masks required. Stay home, don't work, walk away from church, stop singing in church, stay six feet away from others, stop having house parties, stop meeting with friends and family members for fun, stay away from parks, stop going to the beach, stop traveling unless absolutely necessary, stop with wedding ceremonies, stop with funeral processions – these are all recent government commands that should never have been on the government's side to command in the first place. Yet they were. Yet, for the most part, they still are. If fear, by its very properties, causes irrational thinking, why is fear treated as the healthy course of action against coronaviruses? Why are those who are filled with fear considered sane – the fearless as dangerous?
Here is the answer: Because we have become a nation of people ruled by government, not by God. We have become a nation of believers in government – not God. We have become a nation of materialistic secularists who actually encouraged a president to issue an order as horrific as this vaccination mandate.
If America is to survive and see a return to freedom, individualism, the Constitution and civil liberties, the only hope is a national spiritual awakening and a return to God. And we better hurry because the tyrants and demons on the left aren't slowing down their quests for control.
• Cheryl Chumley can be reached at [email protected] or on Twitter, @ckchumley. Listen to his "Bold and Blunt" podcast by clicking HERE. And never miss his column; subscribe to its newsletter by clicking HERE. His latest book, "Socialists Don't Sleep: Christians Must Rise Or America Will Fall," is available by clicking HERE.