Another conical mirage comes and goes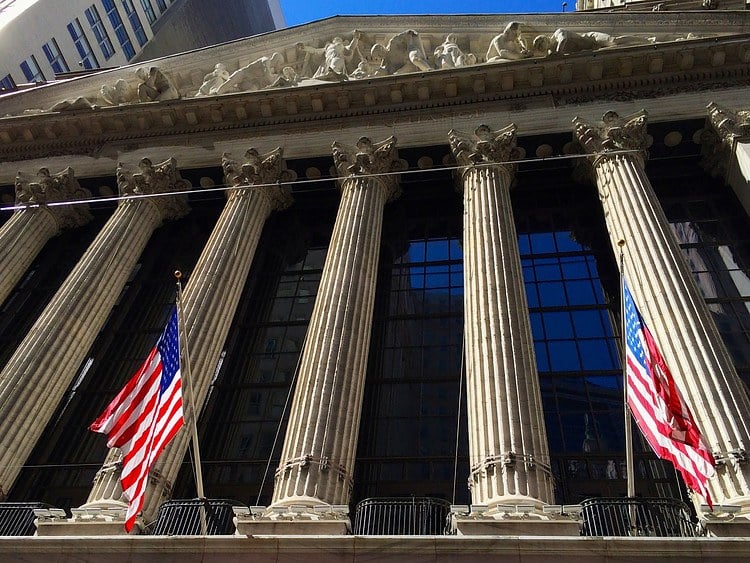 The S&P 500 succumbed to bears – partially. The ADP numbers pushed the dollar up and put Treasury yields under pressure, which is tantamount to encouraging speculation that the downside is approaching. Rest assured, this is not the case in practice, apart from the otherwise known as forward guidance communication exercises, which take place during a week when the Fed injected $ 32 billion into the markets. Today's non-farm payrolls can modestly increase this fata morgana, but it's a tapering bridge too far. They can't tighten in any meaningful way, and they know it – look at what happened the last time Powell insisted (December 2018).
But market reaction is what matters, and yesterday's session on stocks (not just tech), precious metals and commodities, highlights just how swallowed up the story of transient inflation has been. , significantly reducing commodity inflation (aside). If the transition to a higher inflation environment were appreciated for what it is, the fall in gold, silver and copper would not have been so steep. On the flip side, the sharper moves tend to be the counter-trend ones – yes, I'm still of the view that the current reflationary period with the rush to reopen (more juice left in value compared to growth transactions) is conducive to a rise in stock and commodity markets. prices. Including precious metals, of course.
For more evidence, look at barely changing inflation expectations (TIP: TLT rather than RINF which was a little too scared – like yesterday for tech), and read my in-depth Wednesday and Thursday analyzes, which are worth it. worth it, but better when combined for your daily dose of capacity in the markets. What is new now are the considerations for when to start the reduction (as if the discussion had started in the first place):
(…) What holds shares then? Neither uncertainty over Fed policy, nor rising inflation reducing the P&L, nor collapsing bonds – what we are seeing is extraordinary volatility as equities move in both an environment of structurally higher inflation and expect Fed moves that are much lower on the timeline than the markets would appreciate. Heck, even options traders continue to experience the earlier announced change to complacency.
Yes, the tapering discourse has reduced inflation transactions to some extent, but hasn't reversed them in the slightest. In a reflation, stocks and commodities are doing well, and we are still far from worrying about weakening GDP growth rates (today's data on ADP and unemployment is one of them. good evidence) – in my opinion, concerns about inflation not pulling back enough this lull in Treasury markets (which resumes this summer) would come into play first.
Additionally, the progressive rhetoric and market response to it exposes a key vulnerability in the Treasury market. The Fed is well aware that broad support is a sine qua non, and that higher yields (higher real rates) are not in the best interests of the biggest borrower and the real economy. Financial crackdown needs to kick in, and that's one of the reasons precious metals have been tearing apart lately. We are also far from the inflation which breaks the backs of bulls in the stock markets:
(…) We are experiencing stock market and commodity gyrations as we settle into the new reality of higher inflation including expectations, which is not yet putting the stock market to the test. Neither increasing the 10-year yield of more than 2.5% would derail the stock's uptrend – but the associated volatility would already be keenly felt at the 2% level. We are very far from that, which means that I am not afraid that the relay of stock market leadership will pass exclusively to technology (growth) stocks. It would amount to panic.
Gold was scared and the MP plunge showed signs of panic, but like it or not, the weakness was consistent with the pullback in commodities. While gold is the ultimate currency, real money by the JPM's own admission, it is sensitive to movements in real rates – and the expectations of those rates. These took a hit yesterday, and it was as I warned earlier, more readily apparent in the money. Quoting yesterday's comment on my own site:
(…) The ADP data turned out to be positive, the dollar rose, as did yields, as the market (mistakenly) thinks the crumbling is closer. And tomorrow's strength in the non-farm payroll would only reinforce that. The truth is, however, that the Fed cannot withdraw liquidity, raise rates, or even slow monetary expansion. Gold and commodities beyond copper (not oil though) are responding, and miners are offering no clues that this daily setback is over. The game of conical smoke and mirrors has come back to life, but the inflation talks are not over.
In other words, we have a long way to go to stabilize metals, but these prices would be an opportunity to buy – not sell.
Oil is another cup of tea – it's rising but not yet exerting enough pressure to lower GDP growth. High, but supported by the petroleum index. A break afterwards would not be unimaginable – it would be welcome.
Cryptos was touched by Elon's heartbroken emoji tweet, well, what can I say about such tweets. Doge to the moon then? The bulls need to get back on their feet, and fast enough.
Let's go directly to the graphics.
S&P 500 and nasdaq outlook
The S&P 500 suffered weaker impact than the Nasdaq, and volume in either is not consistent with a reversal scenario. As said yesterday, I look for bears to end up failing.
Credit markets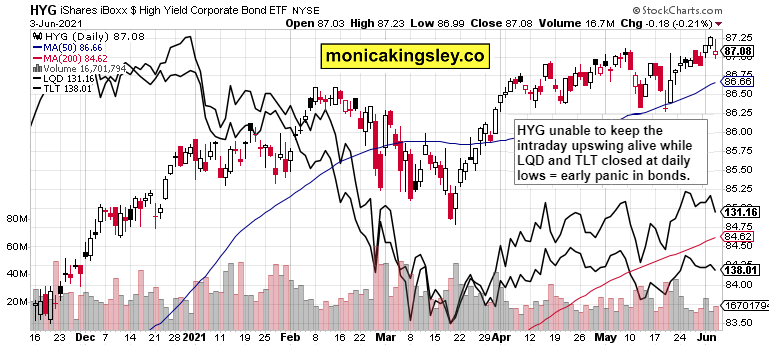 Equally concerning is the intraday reversal of high yield corporate bonds as long-term Treasuries dip to their daily lows.
Technology and value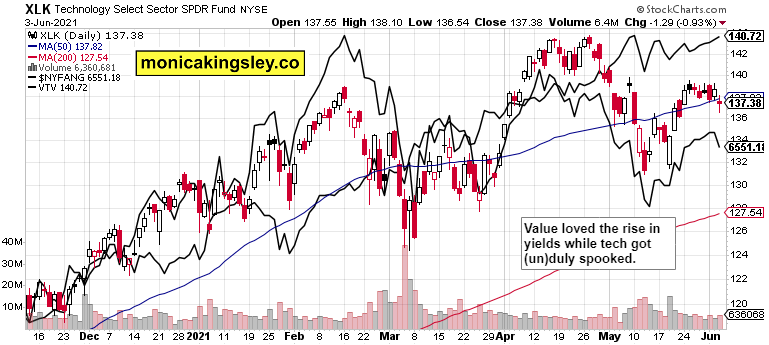 In my opinion, technology, including the $ NYFANG, overreacted, but value continued to drive returns higher. This is one more reason why stocks are not diving far.
Gold, silver and miners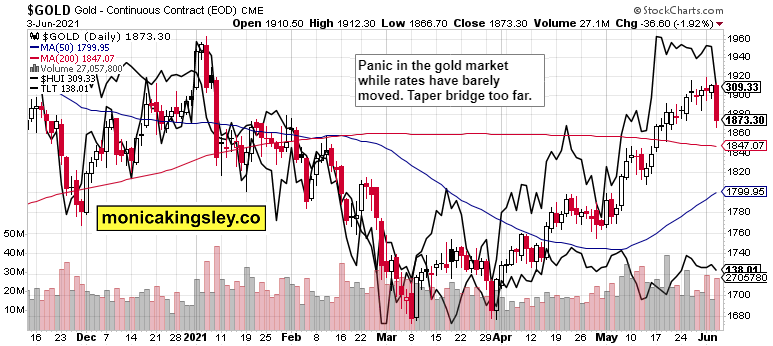 The drop in gold does not reveal the weakness of the miners leading to the downside, and while respectable, the volume could have been larger. The plunge seems exaggerated when it comes to nominal returns.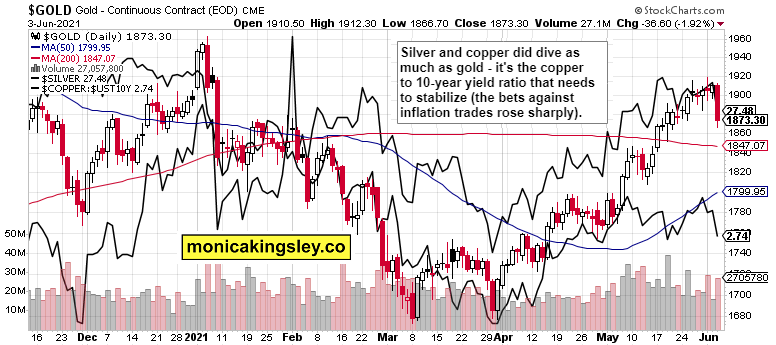 Silver and copper were the missing pieces of the puzzle of the abrupt movement of gold yesterday. Note, however, that the 10-year copper / treasury yield ratio does not collapse in any way.
Bitcoin and ethereum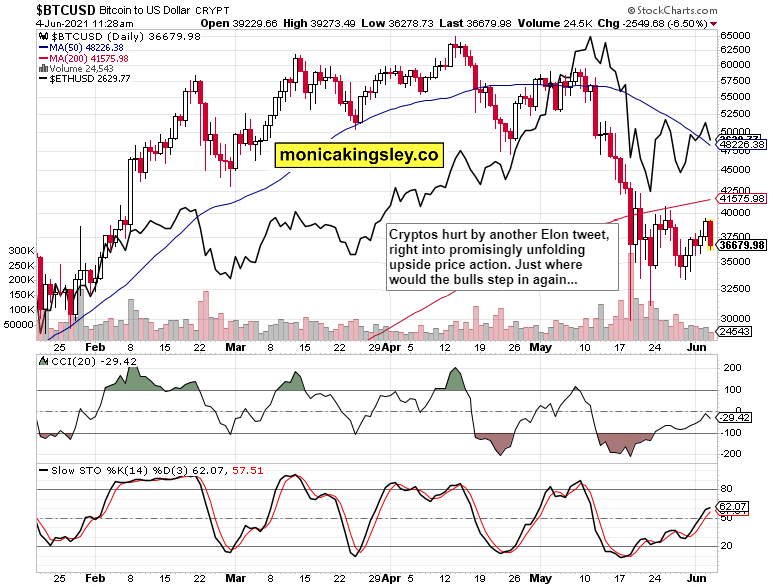 Bitcoin and Ethereum have plunged into the headlines, but would likely recover as unrealistic reduction expectations are lowered.
summary
The S&P 500 bears served us in the raid yesterday, but I'm looking for a quick recovery of the lost ground. The myth of the cone is not just one to take seriously.
Gold and silver remain well offered, and even yesterday's plunge hasn't changed that. Troughs are still to be bought, and the bull run is far from over. As I wrote yesterday, bears might come out of hibernation – only to be repelled, however. Look for copper to stabilize as a prerequisite, miners not falling through the ground.
Crude oil is on the inexorable rise, and as long as other commodities join in the fun, a significant correction is not favored. In other words, today's price action will almost certainly see none.